A LA CARTE PAPER COLLECTABLES
BEATE RAUCH
6650 W. FLAMINGO RD. #102
LAS VEGAS, NV. 89103-2143
BIELEFELD EMERGENY MONEY
The catalog numbers are assigned to cloth issues,
but for purpose of identification
they are also used for paper issuses in this list.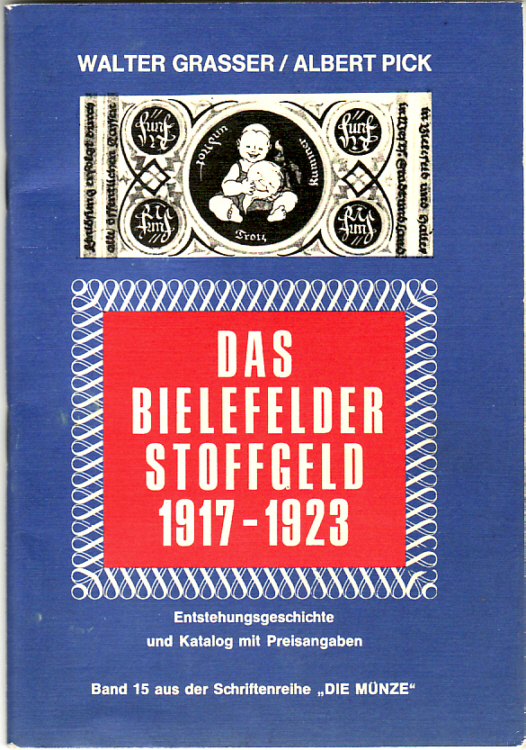 THE ORIGINAL PIONEER - BIELEFELD STOFFGELD 1917-23 - WALTER GRASER/ALBERT PICK
1972 ILLUSTRATED/PRICED SOFTCOVER PUBLICATION.
$20.00 PLUS SHIPPING
Notgeld der besonderen Art
Geldscheine aus Stoff, Leder und sonstigen ungewöhnlichen Materialien.
Monies issued on Cloth, Leather and other unusual Materials
2005 Soft Cover Publication
197 Color Illustrated and Priced Pages -
Extensive listing of Bielefeld - Breslau - Kaiserswerth -
Osterwieck - Paderborn - Pössneck - Lautawerk - Teningen - Passau
$30.00 PLUS SHIPPING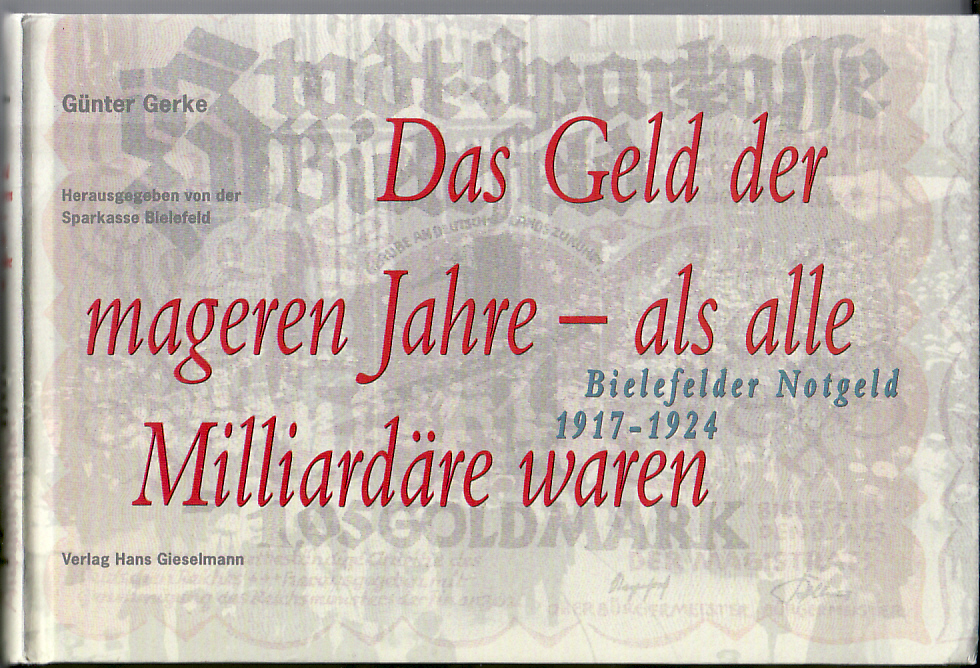 1998 HARD COVER PUBLICATION. PROFUSELY ILLUSTRATED WITH HISTORICAL BACKGROUND RELATING TO DIFFERENT ISSUES. GERMAN TEXT - 200 PAGES - $35.00 plus shipping. PLEASE REFER ALSO TO OUR BOOKLISTS. - SOLD
PUBLICATIONS ARE MAILED BY PRIORITY FLAT RATE.
COMBINING MULTIPLE BOOKS CAN BE HANDLED FOR THE BASIC PRICE.
Catalog References
GR= Hans-Ludwig Grabowski - Deutsches Notgeld Band 9: Notgeld der besonderen Art.
G/P=Walter Grasser/Albert Pick - Das Bielefelder Stoffgeld 1917-1923
Gr=Hans-Ludwig Grabowski - Deutsches Notgeld Band 5 - Kleingeldscheine
G=Anton Geiger - Deutsches Notgeld Band 3 - Das deutsche Grossnotgeld 1918-1921
L=Kai Lindman - Serienscheine Band 2: Spezialausgaben (Blue)
M=Manfred Müller - Deutsches Notgeld Band 4 - Notgeldscheine der deutschen Inflation (8/22-6/23)
Please klick on the small scan to see a larger picture.
Use the back button in your browser to return to the page.
Stamps may not always show in the scans, because the scans are stock pictures in most cases.
The size of the scans is not 1:1
| | | | | | | |
| --- | --- | --- | --- | --- | --- | --- |
| Gr | GP | Gr/K/L | Material | Illustration | Description | Price |
| GR1 | GP1 | K2212e1 | Paper | | 10 Pf. 5 Digit # 0540860 - 1.7.1917 - 1919 | $7.00 |
| GR1 | GP2 | K2212e2 | Paper | | 10 Pf. 6 Digit # starting with 1 - 1.7.1917 - 1919 | $5.00 |
| GR1 | GP2 | K221f | Paper | | 10 Pf. B 6 Digit # starting with 2 - 1.7.1917 - 1919 | $5.00 |
| GR11 | GP3 | K221m | Paper | | 10 Pf. D - - 1.4.1919 - 1.4.1920 - w/o # not issued | $1.00 |
| GR13 | GP4 | K221n | Paper | | 10 Pf. C - - 1.4.1919 - 1921 - 5 Digits | $3.00 |
| GR13 | GP4 | K221n | Paper | | 10 Pf. C - - 1.4.1919 - 1.4.1921 - 6 digits starting with 2 | $1.00 |
| GR2 | GP5 | K221eI | Paper | | 25 Pf. - No Letter - 1.7.1917 - 1919 - 5 Digits | $7.00 |
| GR2 | GP5 | K221eI | Paper | | 25 Pf. - No Letter - 1.7.1917 - 1919 - 6 Digits starting with 1 | $5.00 |
| GR2 | GP5 | K221eII | Paper | | 25 Pf. - 1.7.1917 - 1919 - B No. 6 Digits starting with 2 | $3.00 |
| GR4 | GP7 | K221m | Paper | | 25 Pf. - D - 1.7.1917 - 1920 | $1.00 |
| GR12 | GP8 | | Paper | | 25 Pf. - B - 1.4.1919 - 1920 - - 5 Digits | $3.00 |
| | | | | | | |
| GR14 | GP9 | K221n | Paper | | 25 Pf. - C - 1.4.1919 - 1921 - 5 Digits | $3.00 |
| GR14 | GP9 | K221n1 | Paper | | 25 Pf. - C - - 1.4.1919 - 1921 - 6 Digits starting with 1 | $2.00 |
| GR14 | GP9 | K221n2 | Paper | | 25 Pf. - C - - 1.4.1919 - 1921 - 6 digits starting with 2 | $2.00 |
Gr

GP

K/L/G

Material

Illustration

Description

Price

GR5
GP10
K221k

Paper

50 Pfenning - - 1.3.1918

$1.00

GP11
G46. 10c

L98a2

Paper
1 Mark
1 Mark - 1.12.1918 - perferated edge - Series Note

$5.00

GR7
GP11
G46.11d
Paper

1 Mark - - 1.12.1918

$3.25

GR8
GP12

L98a2

G46.11c

Paper
2 Mark
2 Mark - 1.12.1918 - perferated edge - Series Note

$5.00

GR8
GP12
G46.13d
Paper

2 Mark - - 1.12.1918

$3.25

GP13
G46.07d
Paper
5 Mark - 1.11.1918

$5.00

GR15GP14
GP14
G46.16c
Paper

5 Mark - Weihnachten 1918 - 10. Jan. 1920

$5.00

GR
GP
G46.08d
Paper

10 Mark - 1.11.1918 - 1.2.1919

$7.50

GR
GP
G46..09c

Paper

20 Mark -1.11.1918 - 1.2.1919 - 50 Mark - 1.11.1918 - Reihe III

$7.50

GR
GP
G46.03c
Paper

50 Mark - 1.11.1918 - Reihe III - EF

SOLD - $10.00

GR
GP
G46.06c
Paper

20 Mark -1.11.1918 - 31.12.1918 - - Reihe IV Stamped Seal - Left Stub only.

$6.00

GR
GP
G46.06c
Paper

50 Mark - 1.11.1918 - Reihe IV - 20 Mark Stub attached

SOLD - $15.00

GR
GP
L98d
Paper

6 x 50 Pf. - - 15.5.1921 -

$6.00

GR
L98e2
Paper

1 Mark - 15.5.1921 - 15.7.1921 - 700th Anniversary

$2.00

GR
L98e2
Paper

2 Mark - 15.5.1921 - 15.7.1921 - 700th Anniversary

$2.00

GR16
GP15
L98k1
Paper

5 Mark - 15. 7.1921

$2.00
Gr

GP

G/L/M

Material

Illustration

Description

Price

GR17d
GP16b
L98f
Linen

700 Year Celebration

25 Mark - 15.7.1921 without round stamp - "Gundlach-Bielefeld" Printer

$22.00

GR17c
GP16b
L98f8f
Linen

700 Year Celebration

25 Mark - 15.7.1921 with round stamp - "Gundlach-Bielefeld" Printer

SOLD - $22.00

GR17c
GP16b
L98f
Linen - Used Folds

25 Mark - 15.7.1921 with round stamp - "Gundlach-Bielefeld" Printer

SOLD - $ 8.00

GR21c

GP17b
Es wird hiermit bekannt gemacht, dass niemand in die Bache kackt.
Silk

25 Mark - 15.7.1921 with stamp

$16.00

GR23b
GP17e
Es wird hiermit bekannt gemacht, dass niemand in die Bache kackt.
Silk

25 Mark - 15.7.21 - w/stamp - Dürkopp Die Jahresproduktion

SOLD - $20.00

GR24b
GP17f
Es wird hiermit bekannt gemacht, dass niemand in die Bache kackt.
Silk

25 Mark - 15.7.21 - with Stamp - "Gute Hebezeuge" advertising

SOLD - $20.00

GR24c
GP17f

Es wird hiermit bekannt gemacht, dass niemand in die Bache kackt.

Silk - Sheet with two vertical folds

Unfinished Sheet of 3 pieces 25 Mark - w/o Stamp - otherwise as above

$95.00

GR25b
GP17g
Es wird hiermit bekannt gemacht, dass niemand in die Bache kackt.
Silk

25 Mark - 15.7.21 - with Stamp - "Mechanische Seidenweberei" advertising

$20.00

GR42b
GP18
Es wird hiermit bekannt gemacht, dass niemand in die Bache kackt.
Silk

25 Mark - 15.7.21 - w/o Stamp - Weltmeister Guiginard

$20.00

GR42b
GP18
Es wird hiermit bekannt gemacht, dass niemand in die Bache kackt.
Silk

25 Mark - 15.7.21 - w/o Stamp - Weltmeister Guiginard - VF+

SOLD - $14.00

M380.1b
Paper

500 Mark - 15.9.1921 - - USED

$3.00

GR43
GP19a
L98L
Silk

50 Mark - 2.4.1922 - No Stamp - Dürrkopp Advertising

$22.00

GR46c
GP20a
L98m1
Silk

50 Mark - 9.4.1922 - Anker Registrierkassen - -

No Stamp

$22.00

GR47c
GP20b
L98m2

Dürrkopp

Silk

50 Mark - 9.4.1922 - Velhagen u. Klasing Advertising - ÜBERBRINGER - FÜNFZIG MARK - Signature Stamp

$25.00

GR49c
GP20d

L98m4

Gundlach

Silk

50 Mark - 9.4.1922 - Buch - u. Steindruck Advertising - ÜBERBRINGER - FÜNFZIG MARK

$25.00

GR50
GP20e GP20e
L98m5

Seidenstueck

Silk

50 Mark - 9.4.1922 - "SCHMETTERLING - RAUPE" Mark - 9.4.1922 - "

$$25.00

GR50
GP20e
L98m5

Seidenstueck

Silk

Double Note

50 Mark - 9.4.1922 - "SCHMETTERLING - RAUPE" - Double Note printed for folding and sewing. Scarce

$52.00

GR34b
GP22h
L98i6
Silk

Embroidery on Back

S

100 Mark - 700th Anniversary City of Bielefeld - Signature - 15.7.1921

SOLD - $95.00
Gr

GP

G/L/M

Material

Illustration

Description

Price

GR

GP

K 415b
Paper

500,000 Mark - 20.8.1923

$8.50

GR
GP
M380.4a

Centerfold

Paper

1000 Mark - Calendar - With Impressed Seal + Perf. P.RRÜST (intended for circulation) EF

$20.00

GR52a
GP23b
M380.6
Silk - 1st. Issue

500 Mark - 21.10.1922 - Verse 2 - With Stamp (46)

$25.00

GR53b
GP23c
M380.7
Silk - 1st. Issue

500 Mark - 21.10.1922 -Verse 3 - Without Stamp (47)

$25.00

GR72a
GP24d
M380.28
Linen - 2nd Issue

500 Mark - 1.7.1923 - Verse 1 - With Stamp

$25.00

GR72b
GP24d
M380.28
Linen - 2nd Issue

500 Mark - 1.7.1923 - Verse 1 - Without Stamp

$20.00

GR73a
GP24e
M380.29
Linen - 2nd Issue

500 Mark - 1.7.1923 - Verse 2 - With Stamp
GR73b
GP24e

M380.29

3
Linen - 2nd Issue

500 Mark - 1.7.1923 - Verse 2 - Without Stamp (49)

$25.00

GR74a
GP24f
M380.30
Linen - 2nd Issue

500 Mark - 1.7.1923 - Verse 3 - With Stamp (50)

$25.00

GR74b
GP24f
M380.30
Linen - 2nd Issue

500 Mark - 1.7.1923 - Verse 3 - Without Stamp
GR58.1a
GP26a
L98p1
Linen

1000 Mark 15.12.1922 - With Stamp (51)

SOLD - $25.00

GR59a
GP25bP25b
L98q2.2
Silk
1000 Mark - 15.12.1922 - With Stamp

$30.00

GR60b
GP26b
L98p2.1

M360.16

Linen

1000 Mark - 15.12.1922 - No Stamp - Linen

$30.00

GR67c

GP28a

M380.20
Jute

5000 Mark with White-Gold Border - 15.2.1923 - EF - Scarce

$60.00

GR67c
GP28a
M380.20
Jute

5000 Mark with Green-Black Border - 15.2.1923 - EF - Scarce

$60.00

GR70b
GP29
Silk

10,000 Mark - 15.2.1923 - with Green and Yellow Border - EF

$50.00
Gr

GP

G/L/M

Material

Illustration

Description

Price

GR780
GP31
K
Paper

1 Million Mark - 11.8.1923

$4.00

GR79
GP32
K
Paper

3 Million Mark - 11/8/1923

$4.00

GR80
GP33
K
Paper

5 Million Mark - 11/8/1923

$5.00

GR81
GP34
K
Paper

10Million Mark - 11/8/1923

$5.00

GR82
GP35
K
Paper

10 Million Mark - 9/9/1923

$9.50

GR83
GP36
K
Paper

50 Million Mark - 11/8/1922 - P.RÜST Perforation - Scarce - EF

$8.50

GR84
GP37
K
Paper

1

250 Million Mark -2.4.1922 - cancelled "P. RÜST" - USED SCARCE

x$2.50

GR85
GP38
K

Paper

Intended for Circulation.

1 Milliarde Mark - Ruhrhilfe - 1.2.1923 - Scarce Perforated P.RRÜST.

$8.50

GR86
GP39
K
Paper

RUHRHILFE - 25 Milliarden Mark - 1.2.1923 - AU

$8.00

GR91
GP44
K
Paper

10 Billion Mark - 15.12.2922

SOLD - $12.50

GR92
GP45
M0430.1c
Paper

1 Goldpfennig = 1/420 Dollar - 8/11/1923

$6.00

GR93
GP46
M0430.2c
Paper

5 Goldpfennig = 5/420 Dollar - 8/11/1923 nig = r - 1/11/1023

$8.00

GR94
GP47
M0430.3c
Paper

10 Goldpfennig = 1/42 Dollar - 8.11.1923

$6.00

GR94
GP47
M0430.3c
Paper

10 Goldpfennig = 1/42 Dollar - 8.11.1923- VF

$4.00

GR95
GP48
M0430.4
Paper

1,05 Goldmark = 1/4 Dollar - 8.11.1923



$12.00

GR98
GP51
M0430.18c
Paper

1/2 Gold = Mark 5/42 Dollar 24.11.1923

$6.50

GR99
GP52
M0430.19a - 4 lines of text in upper right circle.
Paperaper
1 Gold Mark = 10/42 Dollar 24.11.1923. EF+ -

P.RRÜST. EF Rare

$40.00

GR99
GP52
M0430.20a - 7 lines of text in upper right circle
Paperaper
1 Gold Mark = 10/42 Dollar 24.11.1923. -

P.RRÜST. USED

$12.00

GR112b
GP57
Velvet

10 Goldmark - Yellow - With Zig Zag Cut Edges - 15.12.1923 - Ungültig

$75.00

GR116b
GP61
Velvet

100 Goldmark - Red Orange - With Zig Zag Cut Edges - 15.12.1923

$100.00